Are you done wasting precious time? Switch to a single-use bioreactor!
Cellexus' bioreactor systems offer a unique way to aerate and mix your bioprocess. Using the uniquely developed Airlift Technology, your cell culture and fermentation processes are improved and simplified.
Advantages of Single-Use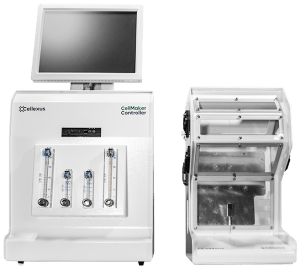 Compared to reusable solutions, the main advantage of the single-use (SU) bioreactor methods the absence of cleaning and sterilization, which are usually required between processes in reusable devices. These routine activities are time-consuming and require the instruments to be switched off, often several days at a time. In some cases the system needs to be certified for sterility before being used again. Switching to an SU system transfers the validation of CIP sterility from the operator to the equipment manufacturer.
Moreover, SU technologies offer many more options to adapt the laboratory to different bioprocesses, eliminating the risk of cross-contamination. For example, a bioprocessing laboratory equipped with reusable equipment is usually dedicated to only one type of bioproduct. For that reason, multiple production lines have to be built for the production of different preparations.
Practical examples
Cellexus' CellMaker airlift bioreactors are ideal for cell culture and fermentation in various applications including:
Phage production,
Aerobic and anaerobic fermentation processes,
Alternative protein production,
Cellular agriculture,
Advanced therapeutics,
Protein expression,
Viral vector production,
Fungal biomass,
Monoclonal antibodies,
Stem cells and many other biotherapeutics.
For example, the CellMaker has proven successful in microbial fermentations such as E. coli expression systems, phage amplification, CHO cell culture and antibody production in both GMP and GLP environments.
Choose from Regular, Plus and Low Flow CellMaker Controllers with working volumes from 1.5L to 50L.